Mexborough man bailed after explosive material found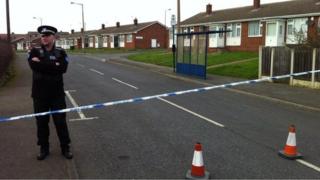 A 55-year-old man arrested after explosive material was found in South Yorkshire has been released on bail.
A 330ft (100m) cordon was in place around a bungalow on Chestnut Grove, Mexborough for most of Saturday and about 50 homes were evacuated.
Residents were allowed to return at 20:00 GMT, South Yorkshire Police said.
A spokeswoman told the BBC there was no link to terrorism and it is thought the materials could have been used in a bid to make fireworks.
Soldiers from the Royal Logistic Corps bomb disposal unit were at the bungalow throughout Saturday, along with firefighters and forensic investigators.
Supt Liz Watson thanked residents who were forced to leave their homes for their "patience, co-operation and community spirit".
The man, who lives locally, was arrested on suspicion of possessing explosives for an unlawful purpose and has been released on bail while South Yorkshire Police continues its investigation.