Izabelle Easen asthma death followed 'gross failure' by paramedic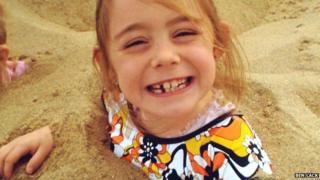 A paramedic failed to give basic treatment when he stopped trying to resuscitate a girl who died after an asthma attack, a coroner has said.
Seven-year-old Izabelle Easen died from a cardiac arrest at her home in Thorne, South Yorkshire, on 9 April 2008.
Paramedic James McKenna tried to revive her but pronounced her dead after no more than 11 minutes, an inquest heard.
Assistant coroner Michael Mellun said that was "a gross failure to provide basic medical treatment".
Children 'robust'
The paramedic was later struck off by the Health Professions Council which heard how ambulance service guidelines stated all children should be given life-saving treatment until they arrive at hospital.
Mr Mellun said he could not rule that the failures in the care of Izabelle, known as Bella, amounted to negligence because the chances she would have survived if she had been taken to hospital were so slim.
However, delivering a narrative verdict at a hearing in Doncaster on Wednesday, he said: "I am satisfied there was a gross failure to provide basic medical treatment."
Consultant chest specialist Simon Taggart said there was a 5% chance Bella could have survived if resuscitation had continued and she had reached hospital.
"If she has a 5% chance, that failing contributed to her death," he said. "I view it that children are robust and should be given every chance."
Mr McKenna told the inquest that he got the protocol wrong as he believed at the time that the requirement to always take young patients to hospital only related to babies.
But he said there were no signs of life in Bella and he believed that taking her to hospital would not have saved her.
The court heard that Bella had suffered from a severe form of asthma for about three years and had been admitted to hospital numerous times.
Mary Ann Charles, the family's solicitor, said: "The verdict brings an end to a period of unimaginable pain and distress endured for far too long by those who loved Izabelle Easen."
She said that Bella's mother, Lorna Robinson, spent years blaming herself for not doing enough for Bella.
"In fact she did everything she could," she said. "It was the health services which had failed her daughter."