Rotherham protest march over children's service cuts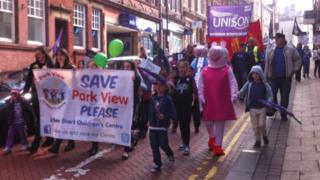 A march and rally has been held in Rotherham to protest against cuts to the town's children's services and the loss of 100 jobs.
About 100 parents, children and workers joined the march organised by the union Unison. The rally was addressed by Sarah Champion the town's Labour MP.
Rotherham's Labour council is planning to close 13 of 22 buildings.
Robin Symonds, from Unison, said: "The council have to think again, Rotherham can't afford these cuts."
Ms Champion used the rally to ask people to lobby the council to reconsider the decision.
"If they shut - that's it for ever, we've got to do all we can to prevent it," she said.
A consultation on the plans is to run until 30 April.
The £5m Early Years and Child Care Service is to be cut by £2.2m during 2014-16, according to council figures.
The council said the centres helped an average of 9,000 children under five and their families each year.
The nine remaining buildings would form seven centres, the council added.
Councillor Paul Lakin previously said: "We appreciate this will have an impact on the quality and quantity of service on offer but we believe that providing seven centres is better than no service at all."