Sheffield Half Marathon: No refunds for cancelled race runners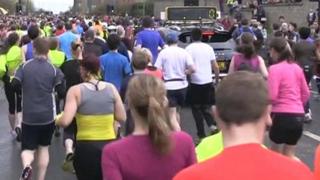 No refunds will be given to runners who entered Sheffield's Half Marathon despite its cancellation, race organisers have said.
The event, on Sunday morning, was called off after organisers were "let down" by a company due to supply water for runners along the route.
But many of the 4,100 entrants who had gathered at the race's starting line ran the route despite the cancellation.
One runner said not refunding the £24-£26 entry fee was "pretty disgusting".
But infrastructure still had to be paid for and race rules stated the fee would not be refunded, the organisers said.
'Very upset'
Margaret Lilley, chairwoman of Sheffield Marathon Ltd, said the race was cancelled only after a "desperate" search of local supermarkets and shops had failed to find sufficient water.
Following the announcement of the cancellation, chaotic scenes ensued as some runners abandoned the race but many others decided to run the course anyway.
A number of participants told the BBC they were unaware the event, which has been run annually for 33 years, had been cancelled until they had run the full length of the race route.
Mrs Lilley said while she appreciated many people were "very upset" about the race being called off, Sheffield Marathon Ltd would not give back any money to participants.
"The rules say there are no refunds and, as people will appreciate, the infrastructure we had to put in place we still have to pay for."
'Pretty disgusting'
An investigation had been launched into the failure of the water supplier to fulfil its contract, Mrs Lilley added.
However, she refused to name the firm concerned while the inquiry was ongoing.
One race participant, Lucy from Beauchief, told BBC Radio Sheffield she was never officially informed the event had been cancelled.
She described the decision not to give refunds as "pretty disgusting".
"Thousands of pounds has been spent getting water for the race so surely they are going to get those thousands of pounds back as they didn't get the water.
"That should go back to the runners, in my opinion."
'Bit of a cock up'
Deputy Prime Minister and Sheffield Hallam MP Nick Clegg has called for a "full explanation" of how the "farcical situation" was allowed to happen.
"I can only imagine how disappointed they must have been when they learned that the race was cancelled as they were on the start line ready to set off," he said.
Richard Caborn, former Labour MP for Sheffield Central and minister for sport in Tony Blair's government, who took part in the race, said it was "a bit of a cock up".
"On the one hand, they said it was off and, on the other hand, everybody is running.
"Over 4,000 people ran the race - they'd been training for it for weeks and months."
Each participant had been given a time so those running for charities could still collect their sponsorship money, organisers said.