Barnsley hospital: Monitor launches money and A&E probe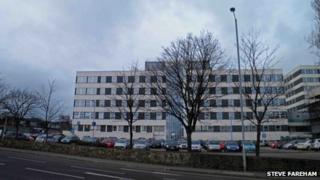 The health watchdog Monitor has launched an investigation into a South Yorkshire NHS trust's money worries and A&E waiting times.
Barnsley Hospital NHS Foundation Trust reported a £2.3m deficit in February and missed a national A&E target five times in 18 months, Monitor said.
The trust said it would be "fully co-operating" with Monitor and patient care would continue as normal.
Frances Shattock, of Monitor, said: "We expect the trust to take rapid action."
She added: "If necessary, we will not hesitate to take regulatory action."
Dan Jarvis, the Labour MP for Barnsley Central, said: "Most people's experience of the hospital is a good one."
But he added "we need to sort this" because the deficit was "very concerning".
The hospital has more than 500 beds and was built in the 1970s. It serves more than 250,000 people in the Barnsley area.
Monitor said it would announce the outcome of its investigation "in due course".