Rotherham £2.8m mobile phone fraud gang jailed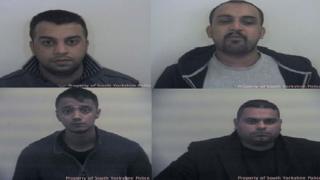 Four men have been jailed for a £2.8m mobile phone fraud which left some customers facing bills of £80,000.
The men, all from South Yorkshire, used the details of genuine mobile accounts to call premium rate lines they ran.
Imran Rasab, 35, was jailed for four years, Waseem Rashid, 26, for 30 months and Nadeem Ali, 26, for 21 months. All three had denied conspiracy to defraud.
Kaleem Hussain, 30, who had pleaded guilty to the same charge, was jailed for 38 months.
South Yorkshire Police launched an investigation in 2010, working with investigators from Vodafone.
'Huge distress'
Blackfriars Crown Court in London was told Rasab was behind a company which purchased thousands of mobile phone customers' details from marketing companies.
In order to hijack those accounts, the men would pose as the account holder and assign the number to Sim cards owned by them,
Then they would repeatedly call premium rate lines, which usually had a connection charge of about £2.50, operated by them.
Sentencing the men, Judge Henry Blacksell QC said they had behaved in an "outrageous" way and shown no remorse.
He said the crime was not a victimless one and had caused individual customers "huge distress and concern".
Rashid, of Old Clifton Lane, Rotherham, Rasab, of Hooton Road, Mexborough, Ali, of Clifton Lane, Rotherham, and Hussain, of Maynard Road, Rotherham, were told they would be expected to repay the money they had made from the fraud.
Speaking after sentencing, Det Con Mark Wootton said: "The conspiracy was organised and highly effective and, as a result, some victims received bills in excess of £80,000, which must have come as a shock."
Many customers did not realise their accounts had been hijacked until their phones stopped working or they received their bills, he added.