Sheffield police need ASB orders for Abbeydale Road gangs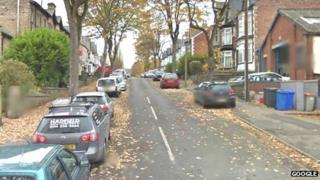 Police in Sheffield have called for powers to disperse groups of up to 30 youths who have been causing trouble in the city for the past year.
South Yorkshire Police said anti-social behaviour around Abbeydale Road had spread further out of the city.
Six-month dispersal orders would be put in place from the Highfields area to Langdale Road, officers said.
On Bonfire Night last year, fireworks and stones were thrown at cars and police in Sharrow.
Residents around Abbeydale Road have since complained of intimidating behaviour, drug use, racial abuse, vandalism and throwing stones and water bombs.
A South Yorkshire Police newsletter told residents: "Despite our best efforts, the problems persist. Over the last month, the problems have moved to Edgedale and Langdale Roads.
'Not racial'
Officers will be able to move on groups of two or more and arrest them if they return. They can also take under-16s home if causing trouble after 21:00 BST.
Insp Stubbs said: "It's become a bit of a game for this group. We turn up but they stand 20 metres away, shout abuse and run away.
"We've identified over 30 people directly involved and I would encourage their parents to take some responsibility."
Insp Stubbs said although the troublemakers are Asian, it is not predominantly a racial problem,
"There's a strong community spirit in Abbeydale, it's just that this group think it's ok when challenged by residents to respond with racial verbal abuse.
"Other parts of Sheffield have the same problems with groups of white men."
The dispersal orders could be in place by May bank holiday (5 May) until Bonfire Night (5 November).