Amanda Spencer trial: 'Grotesque' abuse of Sheffield child sex ring victims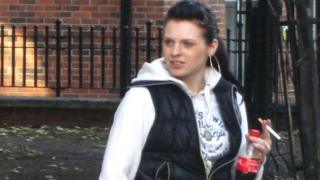 A victim of child sex ring leader Amanda Spencer has described the shocking physical and psychological brutality she used to trap vulnerable girls in a life of prostitution.
Spencer, 23, from Sheffield, has been convicted of 16 charges relating to child prostitution after jurors heard her victims were controlled using drugs, alcohol and violence.
She was just 16 when she began befriending her victims - some as young as 13 - and forcing them to have sex for cash.
One girl, who had been sleeping rough in the city's Abbeyfield Park, told Sheffield Crown Court she thought Spencer would protect her but was left fearing for her life when she was locked in a room where seven men paid to abuse her.
"She used to ring men and they used to come round and she used to lock the door and would not let me go and they tried stuff with me," she said.
"She used to make me do it and if I did not she would hit me. I just got sick of her hitting me and so I just did it for her.
"I thought 'I'm not going to get out of here alive'. I thought 'I'm going to die'.
"I should have just run away but like an idiot I just stuck by her."
Det Ch Insp Bob Chapman, who led the police investigation, said: "The abuse suffered by the victims was grotesque.
"It beggars belief that a young female could actually, in effect, pimp other young, vulnerable females for so long for the benefit of money, drugs and to curry favour with various people."
'Most complicated'
Prosecutor Michelle Colborne QC told jurors the girl "liked Amanda Spencer and believed she would protect her".
"She had a drug problem and this was the means by which she was exploited.
"When she was given money for sex she would have to hand it over to Amanda Spencer, who would use it to buy her drugs."
South Yorkshire Police said the investigation was one of the "most complicated and lengthy" the force had conducted.
Eighteen officers worked on what they called Operation Alphabet, interviewing 286 people and examining nearly 1,500 documents.
Det Ch Insp Chapman said providing "constant support" to the victims had been crucial in order to earn their trust.
The police teamed up with a range of agencies, including health and social services, over the course of the three-year investigation.
'Courage' of victims
Jayne Ludlam, a member of the Sheffield Safeguarding Children Board, described how difficult it had been to persuade Spencer's victims to testify against her.
She said: "Let us not forget the bravery of the young people involved, who spoke out against the exploitation that they suffered and then had to re-live it all again in the court case.
"Their courage will have helped to prevent other young people suffering similar abuse and we are very grateful for this."
One of Spencer's victims said: "There have been times where I have not wanted to go through with this.
"The day I had to do the ID parade was the worst. I didn't think I could go through with it but they [the police] talked me through it and supported me and genuinely cared."