Sheffield fire death family funeral attended by thousands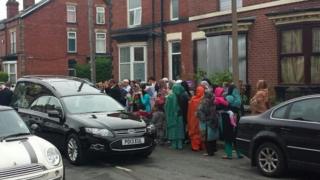 More than 2,000 people have attended the funeral of three children and two women killed in a Sheffield house fire.
Three generations of the Parwaiz Kayani family died in the blaze on Wake Road, in the early hours of 28 April.
The funeral ceremony began at the packed Madina Mosque at 14:30 BST, ahead of burials at City Road Cemetery.
South Yorkshire Police said Wolseley Road was closed to allow for a "significant number of mourners".
Brothers Adyan and Amaan Parwaiz Kayani, aged nine and seven, died from the effects of smoke inhalation, along with their nine-week-old sister Minahil, aunt Anum, 20, and grandmother Shabbina Begum, 53, who initially escaped but went back in the house to try to save the others.
Speaking ahead of the funeral, Mrs Begum's daughter Nazia Parwaiz Kayani said: "We are devastated by the loss of our beloved family and their untimely passing has left an unimaginable void in our lives forever.
"Our thoughts would not be complete without mentioning the selfless heroism of my beloved mother Shabbina Begum, who went back into the home to try and rescue the family she adored.
"She made the ultimate sacrifice."
Ms Parvaiz Kayani also thanked South Yorkshire Fire and Rescue and the paramedics for their "exhaustive efforts on that tragic night".
Fire investigators said they were still trying to establish the cause of the fire but did not believe it was started deliberately.
Isfaq Hussani Kyani, a relative of the deceased, told BBC Radio Sheffield: "We've had messages and cards from as far as America, from Europe, throughout the UK.
"A large number of people have been coming into the mosque paying tribute, so we're all trying to rally round and support the family."
The funeral cortege travelled along Queen's Road, Wolseley Road and Abbeydale Road, paused outside the house on Wake Road, before arriving at the mosque just before 11:00.
Waheed Akthar, acting chairperson of the mosque, said meetings had been held with the police and council to plan how to cope with the thousands of people attending the ceremony.
Speakers were set up in the car park of the 2,500-capacity mosque to allow people in the car park to hear the service.