Doncaster man admits rape and sex attacks on four girls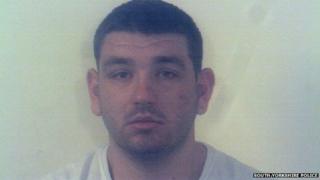 Four teenage girls were raped or sexually abused by the same man in just over an hour in a town centre.
Natham Bradder, 23, admitted attacking the 17 and 18-year-olds between 01:50 GMT and 03:00 GMT on 23 February in Doncaster.
He pleaded guilty to one rape, two sexual assaults and one count of sexual assault by penetration.
Bradder, 23, of Springwell Lane, Balby, Doncaster, will be sentenced at Sheffield Crown Court on 23 July.
He denied two counts of common assault when he appeared at the court on Monday.
Det Con Jo Bedford from South Yorkshire Police said: "Bradder's actions that night were utterly horrifying and sickening.
"It is difficult to find the words to truly describe the gravity of his offending and the lasting impact it will have on the young women he attacked."
'More grave'
Police said he attacked his first victim, a 17-year-old, just off Cleveland Street.
He assaulted two 18-year-olds who were walking together on St Sepulchre Gate at 02:15 GMT.
Finally he raped a 17-year-old girl in Balby after grabbing her from Cedar Road and dragging her into an alleyway and on to a field.
Det Con Bedford said: "I would like to take this opportunity to praise the women in this case for having the courage to come forward and report the offences, as well as offering my thanks to the two men who intervened during the second attack and came forward, as without their assistance the consequences could have been even more grave."