Barnsley Hospital NHS Trust to plug £7.5m finance hole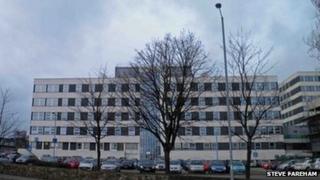 An NHS trust has been told to take urgent action to plug a £7.5m hole in its finances.
The health watchdog Monitor has also asked Barnsley Hospital NHS Foundation Trust to bring in external help.
Monitor began investigating the trust in April over money worries and A&E waiting times.
Diane Wake, the trust's chief executive, said: "We take Monitor's findings extremely seriously and will be working closely with them."
Monitor said the investigation had found "a wider issue" with how the trust was run.
'Finances have worsened'
The trust also breached the national target on A&E waiting times five times in the last 18 months, it said.
The trust has agreed to seek expert help and put plans in place to cut waiting times.
Frances Shattock, of Monitor, said: "It is worrying that the trust's finances have worsened so suddenly and that the problem was not nipped in the bud."
Ms Wake said the trust would produce a plan to turn round its financial and operational performance.
Patient care remained paramount and the trust's services were not affected by the financial position, she added.
The hospital has more than 500 beds and was built in the 1970s. It serves more than 250,000 people in the Barnsley area.