Sheffield Cathedral celebrations after refurbishment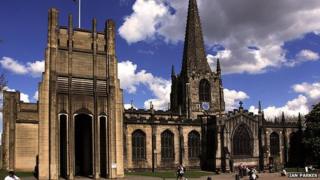 Sheffield Cathedral has been officially reopened after a major refurbishment with new heating, flooring and seating put in place.
The Bishop of Sheffield, the Right Reverend Steven Croft, led a service at the cathedral which also marked the centenary of the diocese.
The bishop blessed the entrance to the building with representatives from parishes across the diocese attending.
Bishop Croft said the building was "an asset to the city and region".
The bishop said: "[This] marks a very special year for the Diocese of Sheffield and for Sheffield Cathedral.
"There can be no better way of celebrating the impressive milestone of 100 years than starting festivities within the impressively-refurbished cathedral building.
"The building is an asset to the city, diocese and region and I encourage you all to explore what it has to offer."
The Dean of Sheffield, the Very Reverend Peter Bradley added: "We now have a place of worship that is both preserved and improved.
"It is right that this building with its history going as far back as the medieval period becomes an even greater cornerstone and meeting place for the city."