Sheffield Heavy Plant sculpture campaign launched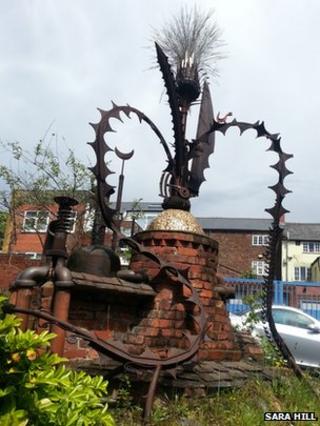 A campaign has started to save from demolition a sculpture that marks Sheffield's industrial heritage.
Heavy Plant, which stands at 18ft (5.5m) in a car park on Arundel Street, is due to be demolished in August for a new development next to the site.
Campaigner Sara Hill said it should be relocated elsewhere in the city.
The owner of the car park said it did not have the resources to move the sculpture, which had "reached the end of its life".
The sculpture was built in 1988 by artist David Kemp using scrap materials and debris from old disused factories in the city.
'Important work'
Sara Hill, who launched the campaign, said: "It's just really beautiful.
"It celebrates Sheffield's past as the city of steel and reflects the fact that after the demise of so many of its old industrial buildings, a new and vibrant city of culture has emerged.
"My plan is to relocate this important work."
Car park owner Sheffield Technology Parks, said it had consulted with Mr Kemp but options to restore and relocate the work were unsuitable.
The company said: "Unfortunately the piece has fallen into disrepair [and] the work has reached the end of its life.
"The adjacent site is due for development in the summer. The car park which Heavy Plant stands in requires considerable regrading in order for this new structure to meet building criteria.
"Consequently it has been decided that when the works commence the piece will be removed.
"We are inspired by the work Sara is doing to find a new life for Heavy Plant and are willing to donate the piece to any organisation who can accept it and to assist in its relocation."