Rotherham child rapist's 'unduly lenient' sentence increased to 15 years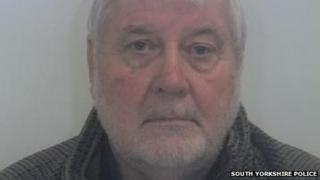 A sex offender jailed for "the most shocking and appalling crimes imaginable" against children, has had his sentence increased to 15 years.
Graham Richard Wilson, 70, from Rotherham, was jailed in April for raping and sexually assaulting a girl under 16.
Wilson's sentence has been increased to 15 years from 11-and-a-half.
Solicitor General Oliver Heald QC MP referred the case to London's Court of Appeal because it was "unduly lenient".
In October 2012, Wilson pleaded guilty to 23 charges including four counts of rape, 11 of indecent assault, six of serious sexual assault and two counts of indecency with a child under 16.
'Sustained campaign of rape'
He also admitted indecently assaulting a 15-year-old girl in 1994.
While on bail, Wilson fled the UK and had to be extradited from northern Cyprus prior to sentencing at Sheffield Crown Court in April.
In a statement after today's appeal, the Attorney General's Office said: "Between 1978 and 1984, Graham Wilson committed a sustained campaign of sexual abuse. His victim was aged 11 at the start of the offending."
Solicitor General Heald said: "This was a sustained campaign of rape and serious sexual assault, over a long period of time from a man who deliberately preyed on a young girl and committed these dreadful acts.
"Victims need to feel safe to come forward and report sexual abuse. They must be reassured that what happened was not their fault and they need to be listened to.
"By increasing the sentence to 15 years, the Court has today sent a clear message that anyone who violates children as seriously as this, and no matter how long ago, will spend a long time in prison."