Thousands expected for Sheffield Pride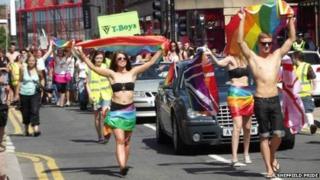 More than 10,000 people are expected to attend events during the seventh Sheffield Pride in the city centre later.
Sheffield Pride said the event was the largest lesbian, gay, bisexual and transgender event in Yorkshire.
Andrew Watson, of Sheffield Pride, said this year the parade was focused on reporting hate crime.
The parade begins at Tudor Square at 13:00 BST. Events on the main stage at Devonshire Green start at 14:00 BST.
Mr Watson said the event being moved into the city centre in 2013 had "improved visibility" for the community.
"The day is about celebrating diversity and striving for equality," he said.