Rolf Harris mural removed from Sheffield building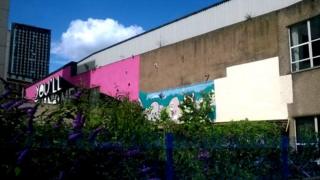 A mural of Rolf Harris, which has been on a building in Sheffield for more than 20 years, has been painted over.
The entertainer was jailed for five years and nine months after he was found guilty of indecently assaulting girls aged seven to 19.
Harris is believed to have painted the self-portrait in the early 1990s on the wall of the Sheffield Archives.
Labour councillor Isobel Bowler said to keep the mural on show was inappropriate.
"To have a mural depicting a convicted child abuser, it's not appropriate at all," Ms Bowler said.
She added that it would be replaced with street art.
Harris is thought to have painted the mural on the wall near Shoreham Street in the city centre after a previous piece of his artwork in Sheffield had been destroyed.
The previous work was painted at Sheaf Valley Swimming Baths in 1972, but the pool was demolished in 1991.
Meanwhile, following Harris's conviction, Liverpool Hope University said it had withdrawn an honorary degree he had been awarded in 2010.
A spokesperson said: "[The] University Council decided at its meeting held on 3 July 2014 to withdraw the University's honorary award given to Rolf Harris in January 2010.
"This has been communicated to Mr Harris's legal representatives."