Second arrest after man dies in Aston car crash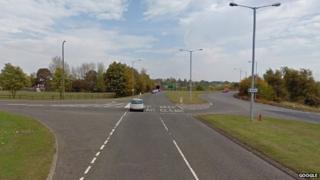 A second arrest has been made after a crash involving a moped and a car, which left one man dead and a woman in a critical condition.
The crash happened on Aston Way, Aston, South Yorkshire, near the M1 junction roundabout, at 01:00 BST on Sunday.
A 34-year-old Rotherham man has been arrested on suspicion of death by dangerous driving.
A 37-year-old woman, also from Rotherham, has been arrested on suspicion of assisting an offender.
She was initially arrested on suspicion of death by dangerous driving.
Road closure
Both the man, the driver of the car, and the woman, who was a passenger, have been released on bail pending further inquiries.
Two other people were assisting police with their inquiries, South Yorkshire Police said.
Officers are yet to formally identify the dead man.
Police believe the victims were riding on a moped at the time of the crash, but is "unclear who the driver was".
The road was shut for about 12 hours while police carried out investigations at the scene.
Detectives have appealed for any witnesses to come forward.