Sheffield wildlife survey records 1,000 species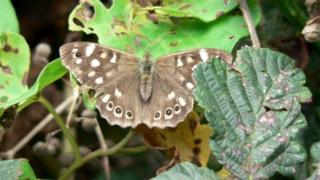 An annual wildlife survey in Sheffield known as the "bioblitz" has recorded 1,000 different species across the city.
Organiser Alistair McLean said an insect new to Sheffield may also have been sighted.
The results will be logged at Sheffield Biological Records Centre, which holds details of the city's wildlife dating back 50 years.
The 48-hour survey recorded 100 more species than last year's count.
Derek Whitely of the Biological Records Centre said many small insects were still to be logged and the sighting of a new species for Sheffield was still to be confirmed.
Preserve for posterity
Mr McLean said fine weather at the weekend could have helped the high count.
Surveyors were told to record "absolutely everything" because it was important to preserve the information for posterity, even if it seemed mundane now.
Mr McLean said the records could help scientists in the future and allowed changes in habitat distribution to be plotted.
The historical record shows that the speckled wood butterfly was once absent from Sheffield, but is now "one of the commonest butterflies in gardens".