Thavisha Peiris murder: Tragic end of pizza worker's dreams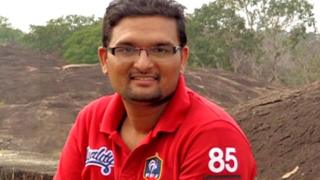 Thavisha Peiris had only been in the UK for two years, and was on the cusp of starting a new career in IT, when he was stabbed to death on his final shift as a pizza delivery driver.
The 25-year-old former Sheffield Hallam University student was planning to go into business with three friends.
But his dreams ended tragically when he was found dead in the driving seat of his Toyota Yaris, parked close to where he was due to make a delivery in Southey Crescent on the night of 27 October 2013.
Isura Herath, his friend and would-be business partner, described him as a "very generous person, talkative and fun".
"Thavisha had a lot of friends. He was always talking, always had something to talk about. He was a good friend.
"That's why we stuck together," said Mr Herath.
The pair struck up a friendship in June 2011 when Mr Peiris arrived in Sheffield from his home country of Sri Lanka.
The youngest of a large family, Mr Peiris left his home city of Colombo with his parents retirement money to help fund his studies in England.
Later, after completing a degree in Information Technology, he secured a part-time delivery job at Domino's Pizza to help support himself, following in the footsteps of Mr Herath, who joined the establishment before him.
Not only were the two friends studying together, but they were also living and working together.
Mr Herath, who saw him before he was due to make his final pizza delivery, said their last exchange of words would always remain in his memory.
"I started work at 11 in the morning and I finished at night. He came out at nine o'clock and that was the last time I spoke to him.
"I said 'do you need my boots', he replied 'no, I'm coming home early'. That's the last time we had talked. It's the last memory I have of him."
Mr Peiris bled to death following a violent knife attack by Kasim Ahmed, 18, from Darnall, and Shamraze Khan, 26, from Sheffield, who were trying to steal his mobile phone.
They were jailed for a minimum of 23 and 24 years respectively.
At the family's home in Sri Lanka, the funeral last November was attended by more than 100 relatives and friends.
A few months later his older brother, Pramod Chetheka Peiris, spoke to the BBC about the family's grief.
"We're still suffering - my mother and father, we're all suffering," he said.
"I can't explain, I can't express my words. We're still shocked."
The family remained in Sri Lanka during the two-and-a-half week trial, during which Khan was found guilty of murder by a jury of five women and seven men. Ahmed had already pleaded guilty to murder.
Following the verdicts, the family said they were "still devastated and heartbroken" by their loss.
In a statement, they said: "We are still unable to comprehend that he is actually gone.
"He gave us so many reasons to smile and he was so caring and loving.
"All we have left are our memories, but they will never fill the void in our hearts. He will never again be with us and we will never hear his voice again."
More than 50 police officers had worked on the case and numerous appeals were made to find Mr Peiris's killers.
"It's really hard to take in," said Mr Herath. "I can't understand why someone would want to harm him. He was so kind. He can't even kill an ant. It's terrible."
Despite the loss of a good friend and colleague, Mr Herath said their plans for the IT start-up business would continue.
"We're trying to keep the business going in his memory.
"Every time I see his picture, it's like he's talking."