Supermarket helps to save threatened Sheffield sculpture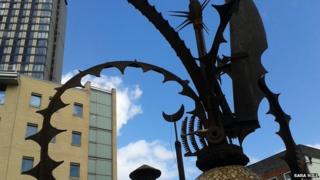 A sculpture celebrating Sheffield's industrial past has been saved from demolition after a supermarket offered to pay for its relocation.
Heavy Plant, which stands in a car park on Arundel Street, was due to be pulled down as part of a redevelopment of the site.
Now Tesco has agreed to pay £5,000 to remove and rebuild it elsewhere in the city.
The sculpture was erected in 1988 using scrap materials from disused factories.
Film-maker Sara Hill, who launched a campaign to save the sculpture, said she was "delighted" at the news.
"I feel there is a real connection between the people who built Sheffield's past and the people who are building Sheffield's future," she said.
Ms Hill said the artwork was being moved temporarily to the city's Kelham Island Museum and would then be rebuilt once a suitable new location was found.
Artist David Kemp incorporated parts of old machinery and metal from the city's many disused cutlery factories in the 18ft (5.5m) high sculpture.
It was due to be demolished in August to make room for Sheffield Hallam University student accommodation, with a Tesco supermarket on the ground floor.
Work on dismantling the sculpture is scheduled to start later.