Boy, 16, arrested over spate of shootings in Sheffield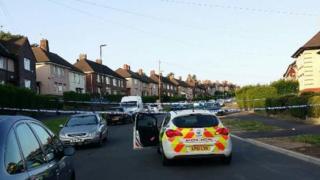 A 16-year-old boy has been arrested over a spate of shootings in the space of two hours in Sheffield on Monday.
A 13-year-old girl suffered minor injuries on Deerlands Close in Parson Cross, where shots were fired at the door of a house.
South Yorkshire Police was called to the estate on Monday after reports of shots on three separate roads between 21:30 and 23:10 BST.
Vehicles were also shot on Barrie Crescent and Lindsay Avenue.
Police said all three incidents were thought to be linked.
The 16-year-old boy remains in police custody.
Carol Wilson, who lives nearby, said the incident had frightened local residents.
"It's not safe like it used to be when we were kids - I daren't let mine out," she said.
"I've got five kids and I don't like them going out."