Former South Yorkshire Tesco drivers hold protest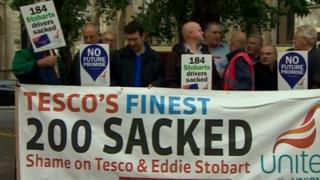 Former drivers who worked at Tesco's distribution centre in Doncaster have staged a protest at the depot claiming they were unfairly dismissed.
The union Unite claims the supermarket chain and transport firm Eddie Stobart Ltd (ESL) agreed to make 184 workers redundant before consulting with staff.
The case is being heard by an employment tribunal. Protests also took place at depots in Widnes and Goole.
Tesco said it had offered the drivers "alternative roles at Tesco".
The dispute began when ESL took over the supermarket's distribution operation in August 2012.
ESL announced job losses following a reorganisation of the business.
Drivers took industrial action which ended in January 2013 when they accepted an improved redundancy package from ESL.
'Alternative roles'
Unite national officer Adrian Jones said: "Our members are seeking nothing, but justice.
"We want to see these employers brought to task, so that other workers do not have to suffer the same fate as the 184 drivers at Doncaster."
As well as the protests in Doncaster, Goole and Widnes, the union is handing out leaflets at stores across the UK.
In a statement, Tesco said: "When we took the decision to transfer the drivers to ESL in 2012, we did everything we could to offer them all alternative roles at Tesco.
"And that offer was made again when Stobart's closed the transport operation at Doncaster last year.
"We have contingency plans to ensure our customers are not affected by this action."