Ex-Rotherham MP Denis MacShane brands prisons a 'disgrace'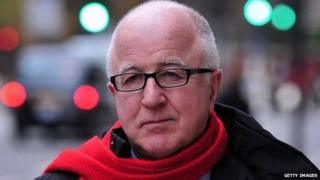 A former minister jailed for expenses fraud has branded the prison service a "national disgrace" and reiterated his sorrow for making "improper" claims.
Denis MacShane was jailed for six months in 2013 after he admitted submitting 19 fake receipts of £12,900.
The ex-Labour MP for Rotherham was released after serving six weeks in HMP Belmarsh and HMP Brixton.
He told BBC Radio Sheffield: "Our prisons are simply aren't fit for service. They are a national disgrace."
MacShane served as Rotherham's MP for 18 years was Europe minister under Tony Blair, between 2002 and 2005.
He said he believed the prison service was "dysfunctional" and failed to prepare inmates for release, describing it as "utterly useless, counterproductive and incredibly expensive".
He said: "Anybody who's inside Belmarsh, you'll find that prisons are very overcrowded, a lot of guys who are seriously unwell, a lot of very poor treatment and as a result 50% of all the people who leave our prisons go straight out and commit new crimes.
"There's no rehabilitation. That's the big, big problem.
"If you treat people in prison as sort of semi-animals, well, when they emerge don't be surprised if they don't behave like decent, upstanding citizens."
'I'm an idiot'
Mr MacShane admitted false accounting by putting in fake receipts for £12,900 of "research and translation" services.
He had used the money to fund trips to the continent.
Apologising for his actions, though insisting he made no profit from the claims, he said: "I fully accept my responsibility for doing something that was improper and wrong.
"I'm an idiot. I'm a fool. I'm stupid. I made a big, huge mistake and I'm very sorry and I apologise."