Sheffield's local TV station hits funding target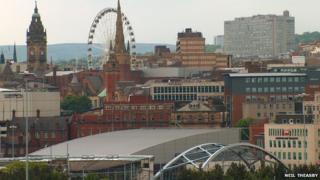 Sheffield's local television channel has reached its funding target of £160,000, bosses say.
Sheffield Live TV said £90,000 of the money came from individuals and groups who have become "community shareholders", with an additional £70,000 in the form of loans.
It is one of several around the UK awarded a licence to provide local digital television programmes.
The channel will launch at the end of September.
It will broadcast on Freeview and on a local cable network.
Channel chairman Steve Buckley, said the money would be used to purchase equipment and complete studio facilities for public access and independent production.
Nineteen licences
"We are delighted that so many Sheffield people and organisations have shown their support for Sheffield Live TV and community-owned media by applying for community shares," he said.
"We'd like to thank them for their support and we look forward to their involvement in the channel."
Ofcom initially received 57 bids to run the channels in the UK.
A total of 19 licences were awarded, with the first station starting broadcasting in Grimsby last November.
The BBC is contributing up to £40m towards local channels, including an agreement to buy news footage.
Last week City TV, licence holder for Birmingham, went into administration before it broadcast any programmes.