Doncaster rapist Natham Bradder jailed for nine years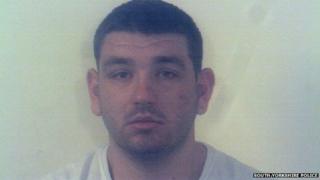 A man who raped or sexually assaulted four girls in just over an hour has been jailed for nine years.
Natham Bradder, 23, from Doncaster, admitted attacking the 17 and 18-year-olds in the town between 01:50 GMT and 03:00 GMT on 23 February.
He will also serve five years on licence after his release and remain on the sex offenders register for life.
Bradder, from Springwell Lane, pleaded guilty at Sheffield Crown Court in May to one rape and three sexual assaults.
Police said he attacked his first victim, a 17-year-old, just off Cleveland Street.
He assaulted two 18-year-olds who were walking together on St Sepulchre Gate at 02:15 GMT.
Finally he raped a 17-year-old girl in Balby after grabbing her from Cedar Road and dragging her into an alleyway and on to a field.