Sheffield railway graffiti vandal jailed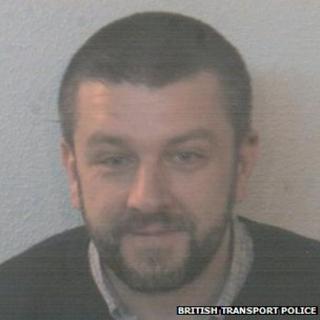 A prolific graffiti vandal has been jailed for 18 months for causing damage to the rail network.
Simon Sunderland, 41, daubed his 'Bloodaxe' tag at locations in Sheffield, Rotherham and Chesterfield.
Sunderland, of Sharrow View in Sheffield, was jailed at the Sheffield Crown Court after admitting causing criminal damage.
The cost of repairing the damage he caused was estimated at more than £90,000.
He was previously jailed for five years in 1996 for a similar offence using the tag 'FISTA'. The sentence was cut to 21 months on appeal.
Jailing Sunderland, Judge Jeremy Goose QC said: "It seems to have been a mission to cause damage over a wide area.
"You are responsible alone and as part of a group for that damage and that subsequent cost.
"The harm you have caused is not measured only by the cost of repair but also by the public annoyance that such damage causes in such a visible way."
Prosecutor Jeremy Hill-Baker said: "In essence he was part of a group of illegal graffiti artists and his tag, or signature, is, or has been, Bloodaxe, Eric Bloodaxe and TPG."
He said Sunderland had also targeted business premises, including R J Stokes, in Meersbrook, Sheffield, and Barnes Lifting Services, in Unstone, Derbyshire.
Richard Adams, defending, described Sunderland as a "loner" who had struggled with mental health problems since he was jailed in 1996. He was diagnosed with paranoid schizophrenia in 2003.
Det Insp Mick Jackson, of British Transport Police, said: "Some people consider graffiti to be art but in reality it is nothing more than selfish vandalism that not only scars the railway environment but contributes to the fear of crime and costs operators thousands of pounds in equipment downtime as well as cleaning."