Sheffield plastics fire: Smoke increases for third day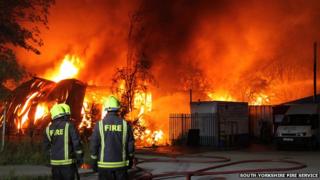 Firefighters have stepped up their operation to put out a huge fire at a disused industrial unit in Sheffield, which has been burning for three days.
More than 40 firefighters tackled the blaze on Station Road, in Ecclesfield, which started Wednesday night.
It destroyed the unit, which contained 2,000 tonnes of waste plastic, and sent thick black smoke over the city.
The fire service said it would use heavy machinery to breakdown the melting plastic to "attack" the blaze.
Firefighters and local agencies continue to advise locals to stay indoors with windows closed.
South Yorkshire Fire Service said: "The huge quantities of plastic involved have melted together to form one large smouldering mass."
About 20 firefighters are at the scene.
No 'toxic materials'
In a statement, the service said: "From 08:00 BST on Friday, heavy machinery will be arriving on site to pull the plastic to pieces, enabling firefighters to attack the fire more aggressively.
"Public Health England (PHE) and the Environment Agency have been involved in the decision to step up operations, as have South Yorkshire Police and Sheffield City Council."
The new plan would "reduce the amount of smoke from the fire in the longer term", the service said.
PHE said it had not received any reports of people being ill as a result of the smoke from the fire.
In a statement, it said: "We are working closely with the NHS to monitor the situation and provide any necessary advice.
"Chemicals in the smoke can worsen existing respiratory conditions, such as asthma. People with asthma or other respiratory conditions should carry their inhalers and ensure they have taken any prescribed medication and keep it to hand."
South Yorkshire Police reopened one lane of Station Road earlier after it was closed for the past two days for safety reasons.
The fire service said there were "no known toxic materials involved in the fire", which also badly damaged a neighbouring car paint spraying unit.