Rotherham child abuse: New acting PCC chosen for South Yorkshire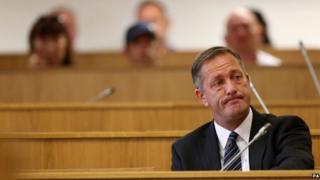 Steve Pick has been announced as acting police and crime commissioner (PCC) for South Yorkshire following the resignation of Shaun Wright.
Mr Wright stepped down after a report found 1,400 children were victims of child sexual exploitation in Rotherham between 1997 and 2013.
He was the head of children's services in Rotherham between 2005 and 2010.
Mr Pick will hold the post until a by-election for the new permanent PCC is held on 30 October.
He is currently the treasurer for the office of the police and crime commissioner.
Mr Pick said his role was to "lay the groundwork" for the new commissioner, adding that he was "a little bit surprised" to get the job.
Former PCC Mr Wright was booed when he appeared before the police and crime panel in the past week.
He also endured calls from members of public and child sexual exploitation victims for him to step down.
His deputy Tracey Cheetham resigned last month saying she felt "unable to continue" in the role and called on Mr Wright to go.
In the November 2012 South Yorkshire PCC election Mr Wright was elected with 51.35% of voters backing him. The turnout was 14.53%.