Doncaster council: Children's services trust takes over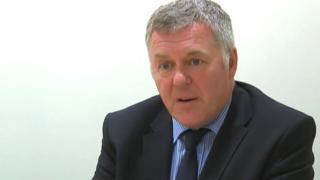 A new independent trust has taken over Doncaster's failing children's services in an effort to turn them around.
Doncaster Children's Services Trust is the first of its kind in the UK, after the government ordered a takeover of the council-run department last year.
The move follows a catalogue of failures in child protection in the town over the past decade.
As the trust took over on Wednesday, chief executive Paul Moffat vowed to make the service "outstanding" by 2019.
He said: "We've got to ensure we provide services of the highest quality."
The trust has a 10-year contract with the council and if it is successful, the model could be rolled out in other places.
In March 2009, the government ordered a takeover of Doncaster's children's services following the deaths of seven children in the district through abuse or neglect over five years.
Less than a year later a serious case review found that attacks in the nearby town of Edlington in which two young boys were tortured by two brothers, aged 11 and 12, had been "preventable".
In July 2013 the then Education Secretary Michael Gove ruled that an independent trust would run children's services in Doncaster.
The trust now has control over the children's social work and care operations while the council retains responsibility for schools and education.
Mr Moffat said: "The trust is a new organisation; there's not a blueprint out there.
"We've got to offer something that makes people want to come to the trust."
He wants to give families support early on before they get into difficulties.
"I hope people see the trust as an opportunity for them to reclaim those classic traditional social work values."