New sports venue for Sheffield's Don Valley site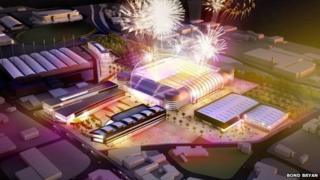 A multi-million pound stadium, hotel and restaurant will be built on the site of Sheffield's former Don Valley Stadium.
Rugby league side the Sheffield Eagles said it had secured £6m to develop the venue at the Olympic Legacy Park.
A university technical college (UTC) and an advanced wellbeing research centre (AWRC) are also planned.
The £29m Don Valley Stadium was closed and demolished in 2013 as part of council budget cuts.
The Eagles, who were left homeless by the closure, have also secured funding for a synthetic pitch.
New facilities
"The new stadium will be like no other in this country, in that it will be designed and managed to have multiple uses that reflect the needs of the broader community as well as being a top-class facility for performance rugby of both codes," club director Ian Anniss said.
Former Sports Minister Richard Caborn, who is leading the Olympic Legacy Park project, said the project will help the city with new academic facilities.
The Park will also provide a 3,000-capacity arena for the Sheffield Sharks basketball club.
Organisers say the Park - a joint venture between Sheffield Hallam University, Sheffield Teaching Hospitals, Sheffield City Council and the private sector - has already attracted nearly £40m of investment and a further £10m is being sought from the Regional Growth Fund.
The UTC, which will specialise in human sciences and digital technologies, will have space for 600 students.