Call for 'forgotten' Crimean War memorial to be restored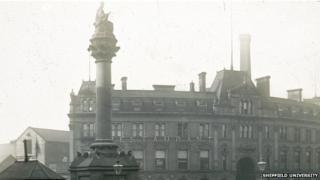 Calls have been made for a Crimean War memorial in Sheffield to be restored.
The monument, which once stood in Sheffield's Botanical Gardens, has lain in storage for more than 10 years.
The Victorian Society has called for the local council to come up with "a clear plan for the monument" to ensure it "is not allowed to lie deteriorating and forgotten".
The monument originally sat atop a tall column in Moorhead before changes to the road layout saw it moved.
The Victorian Society has accused Sheffield Council of being in breach of conditions to restore the monument within two years.
The charity has named the Crimean War Monument in its top 10 most endangered buildings of 2014 list.
A spokesman said: "Conditions attached to the listed building consent for the removal of the memorial from the botanical gardens are believed to have required the restoration works to be completed and a precise location for the memorial secured, within two years of the listed building consent approval.
"Failing to find a new home for the memorial means that Sheffield Council is in breach of its own listed building consent."
Valerie Bayliss, of the Victorian Society, said: "It started out in 1863 in the middle of what was then the town centre.
"It was a high column and on the top was a statue of victory with a laurel wreath and a broken sword."
Councillor Isobel Bowler, Sheffield Council's cabinet member for culture, sport and leisure, said: "Repair work to the Crimean monument was carried out and it was placed into safe storage when it was removed from the botanical gardens some years ago.
"To date neither a suitable new location nor the funding to reinstate the monument have been identified. "