Petition after pupil attacked at Sheffield school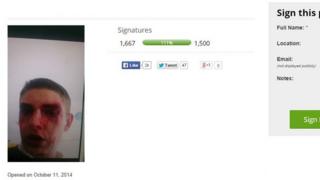 More than 1,600 people have signed a petition calling for "urgent action" after a 14-year-old boy needed hospital treatment following an attack at a Sheffield school.
Rhys Larkins suffered injuries to his eyes and nose at Hinde House School in Wincobank on Thursday.
Parents said it happened after a football hit some Roma-Slovak pupils.
Principal Chris French said the school was now "calm as usual" but that an investigation was taking place.
South Yorkshire Police officers were called out after the attack and the force said it was investigating.
Mr French said: "Two Year 10 boys were assaulted during break time by a number of pupils. They were quickly given first aid and one subsequently went to hospital."
He added: "We always take the safety and welfare of our pupils extremely seriously and note that incidents such as this are extremely rare."
'This will blow'
Parents claim such attacks are not "isolated" or "rare" and say it was the latest incident amid growing tensions with the local Roma-Slovak population.
Mr French said the pupils involved in the assault and friends of the assaulted boys who had "behaved in an unacceptable manner" had been temporarily excluded.
He said tensions between a few Year 10 children had been apparent for the past few weeks, but that staff had been dealing with this day to day.
The petition, Sort Out Hinde House School, claims Roma-Slovak "violence, intimidation and gang culture" is "rife".
It says: "[The principal] must not be afraid of dealing with anyone from this community but treat every incident with equal measure as he would pupils from other backgrounds, not be seen to show more tolerance of bad behaviour from one group over any other.
"It is not good enough to pretend the school is running smoothly when our children are coming home in fear having being intimidated by gangs, or indeed having been assaulted."
One mother said her 14-year-old son was attacked by the same gang last year and said he had seen pupils with knives at school.
"I [told school last year] that this will blow at some point and I still believe that.
"There'll be a knife incident or a fatal assault or someone may get brain damaged. It will escalate."
In a letter sent to parents on Monday, the school said it was "absolutely not true that we failed to deal with inappropriate behaviour because of ethnicity" and said it had organised a series of "listening and information meetings" for concerned parties.
Last year, MP David Blunkett said his Sheffield constituents were "on the edge of an explosion of feeling" at the behaviour of their Roma neighbours.