Shaving mirror starts bedroom fire by reflecting sunlight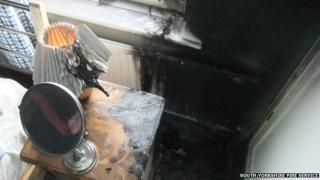 A shaving mirror set a bedroom on fire in South Yorkshire by magnifying the sun's rays on to a curtain.
Firefighters said the blaze, which blackened the walls and melted a lamp at a house in Clifton, near Rotherham, had been caused by the low winter sun.
Simon Rodgers, of South Yorkshire Fire Service, said the incident was "unusual" but warned people not to keep mirrors on windowsills or near flammables like net curtains.
No-one was hurt in the fire.