Liam Naylor jailed for life for murder of Doreen Walker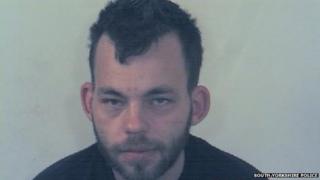 A man who stabbed a grandmother to death before going on a night out with his friends has been jailed for life.
Doreen Walker, 75, was found dead from multiple stab wounds at her home on Birkwood Avenue in Cudworth, South Yorkshire, on 2 April.
Liam Naylor, 23, from Barnsley, who claimed he acted in self-defence, was convicted of murder on Thursday by a jury at Sheffield Crown Court.
He was told he must serve at least 33 years in jail before he can be freed.
South Yorkshire Police said Naylor knew Mrs Walker as he was friends with her 17-year-old granddaughter.
He stabbed her on the evening of 1 April and returned home with bloodstained clothes in a bag, before going out for the night with friends in Barnsley town centre, police said.
Mrs Walker's body was found when friends and relatives forced their way into her house the following afternoon.
Naylor, of Junction Street, was arrested that evening in Skegness.