Ex-police chief Meredydd Hughes quits hospital role after Rotherham abuse report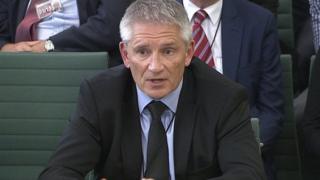 A former South Yorkshire Police chief constable has resigned as a director of Sheffield Children's Hospital in the wake of the Rotherham child sexual abuse report.
Meredydd Hughes was chief constable from 2004-2011.
The hospital trust's governors said it would be "inappropriate" for Mr Hughes to continue in his role as a non-executive director.
The BBC has been unable to contact Mr Hughes for comment.
A report published in August found at least 1,400 children were abused in Rotherham from 1997-2013.
In a statement, the Sheffield Children's NHS Foundation Trust, said: "The trust's council of governors considered the position of Mr Hughes in light of ongoing investigations into child sexual exploitation during the time Mr Hughes was chief constable of South Yorkshire Police.
"The council of governors decided that it would be inappropriate for Mr Hughes to continue as a non-executive director of the trust.
"Following that meeting, Mr Hughes has resigned from the board with immediate effect."
'No understanding'
In September, Mr Hughes told a committee of MPs he had "singularly failed" the victims of the Rotherham child sex abuse scandal and had "no understanding of the scale and scope of what was going on in Rotherham".
Giving evidence to the Home Affairs Select Committee, he said: "This is not something I would have given a blind eye to, nor something I would have wilfully ignored."
Committee chairman Keith Vaz said: "The committee doesn't accept that you didn't know anything about child grooming in your area."
He said the former chief constable's claims of ignorance were "impossible to believe".