Wire poppies 'planted' near Barnsley war memorial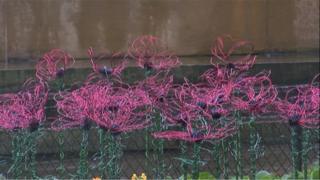 More than 200 wire poppies have been "planted' outside Barnsley's Town Hall.
The sculptures have been produced by primary school children and visitors to the town's museum working alongside a group of artists.
The aluminium poppies have been placed in beds alongside the town's war memorial.
Experience Barnsley Museum said the poppies would remain in place during the town's events to mark Remembrance Day.
They will be removed in a week but the museum said it hoped to use them in future year's at other locations in the town.