Leeds live liver operation showed twins are identical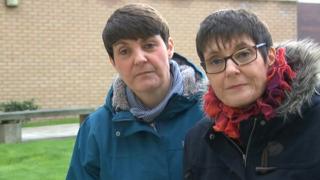 The first identical twins to undergo a live liver transplant in the UK did not realise they were identical until one of them needed surgery.
Annemarie Atha, 48, said she did not hesitate in giving part of her liver to her sister Geraldine Rowing when she became so ill a transplant was advised.
The sisters, from Rothwell, Leeds had the surgery at St James's Hospital in the city in April.
Surgeon Raj Prasad said it was "God or nature's gift, It's a dream."
Ms Rowing said she had suffered liver cancer a few years ago and her doctors eventually recommended she be put on the transplant list.
No organ rejection
She mentioned to her doctor she was a non-identical twin and he suggested doing tests.
However, the test revealed the sisters were actually genetically identical despite not looking exactly the same.
It means Ms Rowing does not need to take a cocktail of drugs to stop her body rejecting the new organ.
"I would just like to say, thank you very much Annemarie," she said.
"Thank you from the bottom of my heart."
Ms Atha said: "I always said I would do it anyway.
"Mum always said that because there were two placentas when we were born that we weren't identical," said Ms Atha.
"So, we've grown up believing we're not identical because Geraldine's got a wider smile than me and she's got a squarer face than me.
"But, [the doctors] said you're identical enough to do the transplant."
Julie Jeffrey, Liver Transplant co-ordinator at St James's Hospital. said: "We know that it is very unusual for somebody that needs a liver transplant to come forward with an identical twin and we know that these are the first ones in the UK that have had a live donor liver transplant from a [compatible] twin.
Consultant liver surgeon Mr Prasad, who carried out the operation, said live liver transplants - where the donor is a living person who donates a section of their organ for the operation - are getting more common.
But he said the benefits of identical twins having the operation was massive.
He said: "It's an absolutely massive advantage which is God or nature's gift. It's a dream."