Barnsley teenagers falconry 'Kes course' axed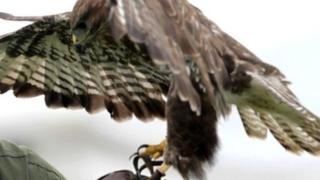 A falconry course for troubled teenagers in Barnsley, known as the Kes Course, has come to an end.
Carlton Community College stopped funding the initiative which was set up in 2011 by falconry expert Chris Corker from Bradford.
It aimed to help pupils who were misbehaving and getting into trouble.
The course cost £350 per pupil for 10 visits to falconry centres, but Mr Corker said it finished after the school "changed its priorities".
Carlton Community College, previously called St Helen's, featured in Ken Loach's 1969 film Kes, which tells the story of a boy who turned his life around after forging a bond with a bird of prey.
Mr Corker said he persuaded the school to back the project after meeting young people who were getting into trouble with the police in Barnsley.
He said about sixteen pupils had completed the course since it started, and he had seen "big changes" with many pupils who may have dropped out of school going on to apprenticeships and further education.
Dai Bradley, who played Billy Caspar in Kes, was due to attend the final presentation for the last pupils to have passed the course.