Conisbrough death crash road 'too dangerous'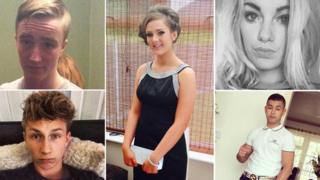 People living near a road where five teenagers died in a crash have said the speed limit there should be lowered.
The crash, between two cars in South Yorkshire, happened at about 21:40 GMT on Saturday on the A630 in Conisbrough, near Doncaster.
The accident happened about 328ft (100m) from the scene of another crash in 2011 in which three teenagers died after their car hit a tree.
A faded Manchester United football shirt and several tributes remain pinned to a tree next to the road.
Joseph Gray, of Gray's Fruit Shop in Conisbrough, said it was a "dangerous road" where two brothers had also lost their lives about a decade ago.
"Cars are manufactured to go too fast, faster than is legal. If they limited the speed on cars they'd stop a lot of accidents."
Pauline Jackson, from Conisbrough, said she worried about her 18-year-old son who has just passed his test.
"He's actually said the speed limit [which is 50mph] should be lower on that road."
Penny Hart who lives in the village of Sprotbrough, close to where the crash happened said: "The roads are badly lit and there are huge potholes.
"I have been in regular contact with an officer at the local council about this issue but they seem unwilling to do anything because of a lack of funding.
"Road maintenance in this area is very poorly funded."
Doncaster Metropolitan Borough Council is yet to comment.
However, Stuart Brown, from Rotherham, who is a private hire driver, said: "Something needs to be done to make people drive slower.
"I do about 1,000 miles a week and it does scare me, I think it could be me."
Rosemary Jones, from Garrison's Butchers in Conisbrough, agreed with Mr Brown.
"I passed there taking my daughter to Doncaster on Saturday about 30 minutes beforehand and it was foggy. I'm glad I missed it.
"A lot is to do with the weather and driving too fast."
The cause of the crash is currently unknown, but Insp Pete Serhatlic from South Yorkshire Police said the stretch of road was not seen as a regular accident blackspot.
A 21-year-old man from Doncaster, who was driving a black Vauxhall Corsa, was arrested on suspicion of causing death by dangerous driving and was later released on bail.
---
Teenagers who died:
Arpad Kore, 18
Jordanna Goodwin, 16
Megan Storey, 16
Bartosz Bortniczak, 18
Blake Cairns, 16