Goldthorpe fly-tipping shows 'lack of community pride'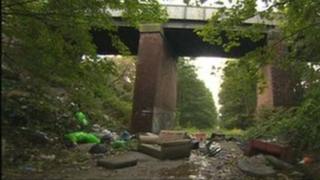 Tonnes of rubbish dumped into a railway cutting in South Yorkshire is as a result of "a lack of community pride", a councillor has said.
Nappies, bottles, furniture, tyres and household appliances have been dumped along the disused cutting below Railway View in Goldthorpe, South Yorkshire
Councillor Ralph Sixsmith, who represents Dearne South, said the problem was "ludicrous".
Network Rail said it had installed fencing to help ease the problem.
A Network Rail spokesman said: "This is a very challenging site and over the last few years we have cleared it up several times - at expense - and have installed palisade fence in an attempt to prevent further tipping.
"More recently, we have installed even more fencing to prevent access and tipping, and at the council's request, are developing plans to do more.
"We are working closely with Barnsley council to come up with a long-term solution to this site."
Barnsley Council has previously said it needed more people to come forward and "help identify the perpetrators".
Mr Sixsmith said: "It's just a lack of community pride, it's ludicrous what's happening.
"We have a problem with transient people, people moving in and out of here, moving into absentee landlord properties and what happens is when they move in they just fetch the gear out and dump it the nearest place they can get it which is over the railway bankings.
"You can't think that people would want to live in an area like this. The amount of times we've cleaned up, my heart goes out to Network Rail - it's their land, but it's our problem.
"We're in a dialogue with Network Rail, we're having new railings fitted, hopefully to stop [people] chucking the bigger stuff over the top."