Snow leaves dozens stranded in cars in South Yorkshire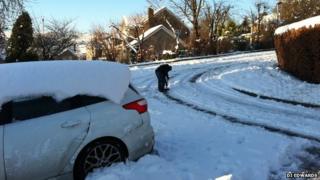 More than 80 people stranded by heavy snowfall across South Yorkshire spent Boxing Day night in their cars.
South Yorkshire Police said many of the vehicles became trapped on the Woodhead Pass/Stocksbridge Bypass, north of Sheffield.
A group of coach passengers also spent the night at Our Lady of Beauchief & St Thomas of Canterbury Church after being stranded in Sheffield.
Forecasters say the worst of the snow has now passed.
Chloe McIntosh was one of the passengers who tried to catch the 14:15 GMT National Express coach from Sheffield to London on Boxing Day.
She said the coach did not arrive to collect the passengers, but a replacement picked them up and they set off at about 18:45.
But the service became stuck in snow on a steep hill leaving Sheffield, and the 20-30 passengers had to spend the night in Our Lady of Beauchief & St Thomas of Canterbury Church. Ms McIntosh said another service picked them up at about 06:30 and they arrived in London several hours later.
The Edwards family, returning to Hull after spending Boxing Day in Dore, Sheffield, said it took seven hours to drive home instead of the usual hour and a half.
The AA said "lots" of cars were abandoned in Sheffield.
Arrivals and departures from Leeds Bradford Airport and Robin Hood Airport in Doncaster are back to normal after disruption on Friday evening.
How to drive in snow and ice
Balance your speed - too fast and you risk losing control, but if you go too slow you risk losing momentum
Start gently in second gear, avoiding high revs. Stay in a higher gear for better control
Only use the brake if you cannot steer out of trouble
Increase the distance at which you follow other vehicles
Plan your journey around busier roads, which are more likely to have been gritted
On a downhill slope, get your speed low before you start the descent, and do not let it build up
In falling snow, use dipped headlights or fog-lights but switch off if conditions improve
Read more about how to prepare your car and get readers' tips on driving in freezing weather.
---