Wheelchair cancer bride Jamie Jepson walks down aisle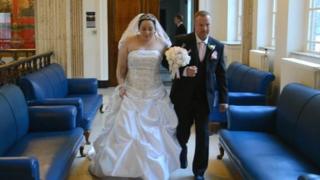 A bride who has to use a wheelchair because of terminal cervical cancer has walked down the aisle without crutches to marry her fiancé.
Jamie Jepson, 25, was told in October she only had six months to live after being diagnosed with a tumour.
Ms Jepson walked down the aisle of Barnsley Register Office earlier with her stepdad Andrew Oxley as she married her partner Gareth Harrison.
She said the cancer took "everything from me, except my wedding day".
"We just want this one last thing that it [cancer] can't take away from us.
"I want to make it as normal as we can and try to get that bit of strength."
The bride underwent an operation to remove the tumour last year, but months later was given the news the cancer had returned.
Ms Jepson, who met Mr Harrison more than a year ago, told her fiancé to move on and find another partner, but instead he proposed.
Mr Harrison said: "The circumstances have took so much away from us that I don't want it to take this away from me and by marrying her, then she's kind of in my life forever."
The 25-year-old is now warning women not to put off having a smear test as she did.
She said: "When they told me I had to have the hysterectomy, that was the worst part because me and Gareth we planned to have kids and that's all I ever wanted."