Rotherham's three Labour MPs to sue UKIP MEP for slander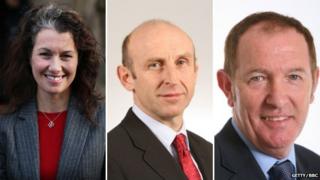 Rotherham's three Labour MPs say they are suing two UKIP politicians over remarks made about them in relation to the town's child abuse scandal.
Sarah Champion, John Healey and Kevin Barron are taking action against MEP Jane Collins for libel and slander for comments she made at a UKIP conference, which they believe are defamatory.
They are also suing Rotherham UKIP group leader Caven Vines for libel.
About 1,400 children were abused in the town from 1997 to 2013, a report found.
Mr Barron and Mr Healey are taking action against Mr Vines for remarks he made in a Sky News interview.
In a joint statement, Ms Champion, Mr Healey and Mr Barron said: "It is sickening that UKIP could use such an important issue for party political point scoring, and we will challenge these defamatory accusations through every means available to prove they are untrue and to stop UKIP exploiting the terrible abuse for their own political gain."
A UKIP spokesperson speaking on behalf of Mrs Collins and Mr Vines said: "We are unable to comment at the moment, as this is an ongoing case."