Sheffield City Council to cut jobs and raise council tax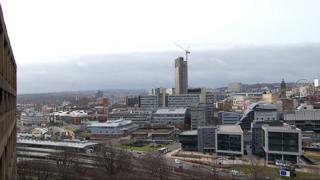 Sheffield City Council is planning to cut up to 200 jobs and raise council tax by 1.99% in an attempt to save £63m from next year's budget.
Labour council leader Julie Dore said she believed it was "the toughest budget anyone in this council has had to set in recent history".
The proposed budget will go before the council's cabinet in February and the full council in March.
The plans were unveiled at a public consultation at Sheffield Town Hall.
The council's chief executive, John Mothersole, told the meeting the £63m in savings would come from a £38m reduction from service areas and £25m from non-front line services.
The authority said it was planning to make savings by renegotiating contracts with firms that provide the council's waste management services and office support.
If approved, the job cuts would mean the council had reduced its workforce by nearly 2,000 people since 2010.
As part of its £50m in budget savings for the year 2013-14 the council demolished the Don Valley athletics stadium, cut funding to arts centres and handed some of its libraries over to be run by volunteer groups.
---
Analysis by James Vincent, BBC Look North
Council leader Julie Dore says the fat of the council has been trimmed, now it is down to "the bones".
But while services are cut people will be expected to pay more in council tax.
A 1.99% rise has been proposed, so accurate and precise because any higher and it would trigger a referendum on whether people want to pay it.
That's an argument the council knows it won't win.
---