Visit Barnsley Twitter parody boost for tourism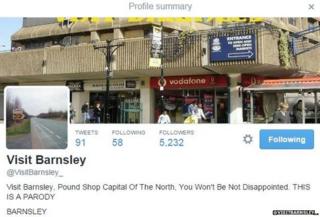 A mock Twitter profile that makes fun of Barnsley has garnered nearly 400,000 views for the official council-run account it was set up to parody.
The spoof 'Visit Barnsley' account describes the town as the "pound shop capital of the north" and pokes fun at its residents.
It has more than 5,000 followers but has also boosted the number of visits to the official account.
Council culture boss Sue Thiedeman said: "We've had 394,000 looks."
In one post the spoof account features a picture of a field covered in rubbish and asks people to send in their "favourite picture of Barnsley".
In another it says "Sally from Barnsley sent us this lovely picture of a Robin in a tree, taken at @RSPB_OldMoor" next to a picture of a Robin Reliant car in a tree.
'Clearly a joke'
The account founder, who is from Wakefield and wishes to remain anonymous, said he had "absolutely nothing" against Barnsley.
He said: "The idea behind it was to take these existing stereotypes that Barnsley is a bit rough, an ex-mining town, and make it so outrageous and ridiculous that people couldn't possibly think it was true and maybe get a few laughs along the way.
"It could be derived as offensive but it's just so clearly a joke and I'm sure the people of Barnsley do have a sense of humour.
"I hope some of my followers rub off on the original Visit Barnsley site."
Mrs Thiedeman, head of culture and visitor economy at Barnsley Council, said: "We work really hard at taking every opportunity to promote Barnsley and this has given us even further chance to do it.
"They have got more followers than us but, obviously, it works both ways and people have looked at our account a lot more than they would've if they hadn't had this fake account and that's given us a vast amount of interest.
"What we don't like is the negative or offensive content that's been posted, we wouldn't condone that, but obviously it's supposed to be just a bit of fun."