Car crashes into Sheffield house on snow-covered road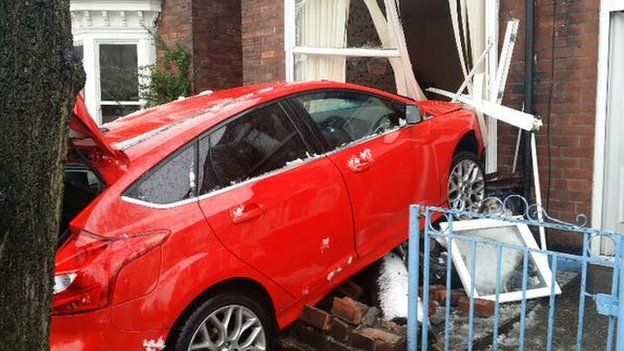 A car has crashed into a house in Sheffield, badly damaging the property.
A woman living in the house in Argyle Road, in Meersbrook, when the car hit it at about 08.20 GMT said she thought the whole building had fallen down.
South Yorkshire Police said a number of people were in the house at the time of the crash but no-one, including the driver of the red Ford Focus, was hurt.
A force spokeswoman said she was unable to say weather the snowy conditions were the cause of the incident.
Salma Zahid, who was in the house, near the junction with Bishopscourt Road, said: "I heard such a big crash. It was like an earthquake. I thought the whole house had fallen down.
"I'm just glad no-one was in the room at the time. I'm glad that nothing really bad happened."
Related Internet Links
The BBC is not responsible for the content of external sites.