Jasmyn Chan death: Man jailed for Sheffield hit-and-run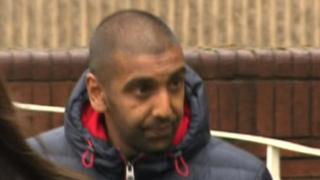 A man has been jailed for seven-and-a-half years for killing a teenage girl in a hit-and-run crash.
Jasmyn Chan, 14, died when she was hit by a car on Normanton Hill, Sheffield, on 9 May while crossing the road.
Naseeb Ellahi, 33, was driving at more than 60mph when he hit Jasmyn before driving off.
Ellahi, of Ash Road in Birmingham, was jailed at Sheffield Crown Court. He pleaded guilty to causing death by dangerous driving earlier this month.
'Act of bravery'
He also admitted failing to stop after an accident and failing to report an accident.
Jasmyn was hit by the car moments after pushing her friend Tia Tucker, 12, out of the way in a "remarkable act of bravery" which saved her life, Judge Julian Goose QC said.
Ellahi had been taking cocaine before he set off to drive that night.
The 34-year-old was also driving without insurance or a licence when he ran into the two girls, Sheffield Crown Court heard.
Ellahi admitted causing death by dangerous driving and other offences.
Many in the packed public gallery were in tears as Jasmyn's mother, Paula McCullie, read out an impact statement to the court.
Mrs McCullie told Judge Goose her daughter was "the most beautiful thing I'd ever seen" after she was born and grew up to be an art-loving "beautiful, popular young girl" who dreamed of becoming an architect.
Watched by dozens of members of her family, she said Jasmyn was a "beautiful, loving, generous girl with a heart of pure gold."
Mrs McCullie added: "Some people are just born special. Jasmyn was one of those people."
Her ex-husband, Paul Chan, was also in tears as she recalled how she knew her daughter was dead when she arrived at the scene of the crash, near her house.
Mrs McCullie asked the judge how someone could knock down two children and leave them for dead by the side of the road.
Ellahi sat in the dock with his head in his hands weeping through the hour long hearing.
Tom Storey, prosecuting, explained how the defendant was a habitual cannabis user who had been banned from driving many years ago and since getting his new car had never bothered having a lesson and failed his theory test three times.
Ellahi set out to drive on that Friday night to see his daughter after taking two lines of cocaine.
Lost control of car
Mr Storey said investigators showed how the car had been travelling at more than 61mph on the 30mph single carriageway road when he began to brake, got into a skid and lost control.
The judge said he thought Ellahi would have been travelling substantially faster than this.
Jasmyn and Tia were with three other friends, who cannot be named, who were crossing the road in two groups.
Mr Storey said it was likely Ellahi braked when he saw the three other teenagers in the road and swerved to miss them and ended up hitting the other two girls.
He confirmed Jasmyn tried to push her friend Tia out of the way of the vehicle before they were hit.
Tia suffered a fractured ankle and cuts to her legs.
The prosecutor said Ellahi stopped briefly then drove off at speed, leaving the injured girls on the grass verge where they had landed.
He handed himself into police five days later and his car has never been recovered.