Vote to decide Brierley Town Council future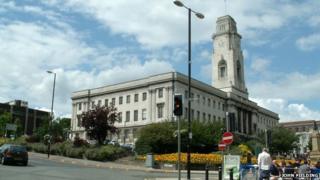 A vote is to be held on whether to abolish a South Yorkshire town council.
Barnsley Council has agreed to hold a ballot on whether Brierley Town Council should be scrapped. The vote is likely to be held after the General Election.
A council report said community "antipathy" related to "relatively high" parish precept payments and the financial effects of a fraud committed by a former council clerk.
It said dissatisfaction did not relate to a "lack of effective governance".
Barnsley council leader Steve Houghton said: "It's a major step reducing a tier of democracy and we need to tread very carefully in doing so.
"I hope this [vote] will be a binding result to bring an end to this long running story."
He said if people voted in favour of abolishing Brierley Town Council (BTC) the Secretary of State would have to be informed of the decision and may choose to overturn it.
The report said if BTC was abolished Barnsley Council would have to decide whether to continue to fund services currently paid for from the parish precept at an additional cost of £157,000 per year.
Barnsley Council announced in February 2014 it needed to save £27m by 2016 as a result of government imposed cuts.
In September 2013 former BTC clerk Janet Cooper was jailed for eight years after pleading guilty to fraud and theft offences.
BTC was forced to take out a "special loan" of £800,000 from the Public Works Loan Board and an additional loan of £480,000 Barnsley Council as a result.
The report said the local community was "essentially of the view they are now paying a substantial precept effectively to service a loan arising from the dishonesty of the former clerk".
The BBC was not able to contact BTC for comment.