Job losses as Doncaster bakery firm Cooplands collapses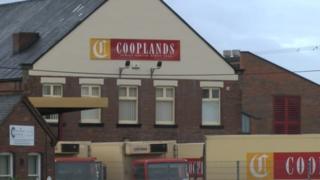 More than 300 jobs are to go across Yorkshire after bakery firm Cooplands went into administration.
The Doncaster-based firm, founded in 1932, had 80 stores, 26 mobile sandwich vans and 562 employees.
Administrators Deloitte said the business had made unsustainable losses, due to high manufacturing costs and falling trade.
Part of the business has been sold to restructuring firm ReSolve, securing 259 jobs.
Adrian Berry, joint administrator, said: "Regrettably, we have had to close 39 retail stores, together with the bakery and head office in Doncaster.
"However, there is some positive news today with the sale of 41 retail stores and the entire mobile sandwich van business."
Shane Sweeting, from the union Unite, which represents about 10% of the workforce, said the firm had been a major employer.
"These are jobs that are hardly likely to be replaced. They are a long-standing employees, they have been there a lot of years and they will really struggle to find employment elsewhere."