Rotherham abuse scandal: Ed Miliband 'deeply sorry'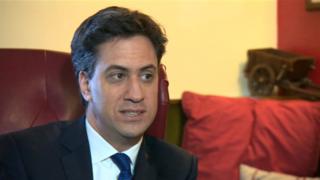 Labour leader Ed Miliband has said his party "let people down in Rotherham" over the child sexual abuse scandal.
Speaking on the BBC's Sunday Politics programme in Yorkshire and Lincolnshire, Mr Miliband said he was "deeply sorry" for what had happened.
A report published in August on child sexual exploitation in the town found at least 1,400 children were abused in Rotherham from 1997-2013.
Labour were in charge of the council throughout the period.
The report by Professor Alexis Jay found children as young as 11 were raped by multiple perpetrators, abducted, trafficked to other cities in England, beaten and intimidated, mainly by men of Pakistani heritage.
Earlier this month, a report by Louise Casey, the director-general for troubled families, said the authority was still "in denial" about the child abuse scandal and was "not fit for purpose".
In response, Communities Secretary Eric Pickles appointed five government commissioners to run the council and imposed early elections in 2016.
'Deeply troubling'
The council leader Paul Lakin and the entire cabinet have resigned.
Mr Miliband said it was important for the Labour Party to "learn the lessons" from Rotherham.
"The Casey report was deeply troubling and indeed the leadership and the cabinet is gone - there is going to be new leadership, and that is going to be the right thing to do," he said.
"I am deeply sorry for what happened in Rotherham and we are determined to have a fresh start, a fresh start in terms of the people of Rotherham most of all.
"The Labour Party did let people down in Rotherham, absolutely."